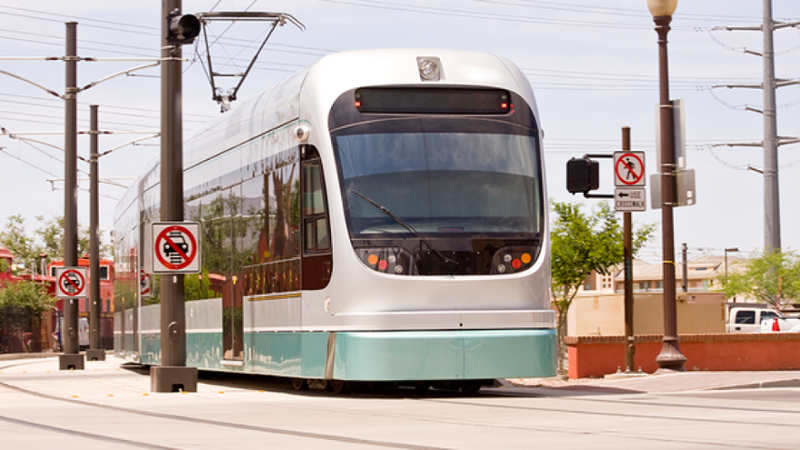 As Congress prepares to take up major surface transportation legislation, Mayors Kate Gallego of Phoenix, John Giles of Mesa and Corey Woods of Tempe are calling on national leaders to act boldly to invest in infrastructure in a new video campaign.
Last month Rep. Greg Stanton joined House leadership and mayors from across the country to highlight the need for the federal government to act boldly on infrastructure, calling on Congressional leaders to "be good partners to help mayors and cities leverage their own investments, transform their economies, and make America more competitive than ever before."
The press conference coincided with the rollout of videos from more than 30 mayors from across the country highlighting how federal investment in infrastructure can help both rural and urban communities across the country create good-paying jobs, improve quality of life and reduce pollution.
"Investments in transportation are investments in opportunity," said Gallego. "The Light Rail system connects students to the schools of their dreams. It connects our adults to jobs, to medical care, and it connects Phoenix to our future."
"In one of the fastest growing cities in the nation, we're witnessing firsthand the need for investment in our roads and electric grid. This investment would mean greater access to education, jobs and health care," said Giles. "It's about working for our people. And it would build the foundation for affordable climate plans to protect our most precious resources like clean water."
"Infrastructure investment is more than roads and bridges—when done right, it's an economic development tool. Increased mobility, like Light Rail and the modern streetcar, attracts new businesses and gives existing businesses the opportunity to expand their operations," said Woods. "We're ready to work with leaders in Washington to build for the future, jumpstart our economy, combat climate change and make Tempe an even better place to live, work and play."
Today, the House Committee on Transportation and Infrastructure introduced the Investing in a New Vision for the Environment and Surface Transportation in America (INVEST in America) Act, a transformational, $547 billion surface transportation reauthorization bill.

The Committee, of which Stanton is the only member from Arizona, will consider the legislation during a markup next Wednesday, June 9.

A bill fact sheet is available HERE, a section-by-section is available HERE and full text is available HERE.