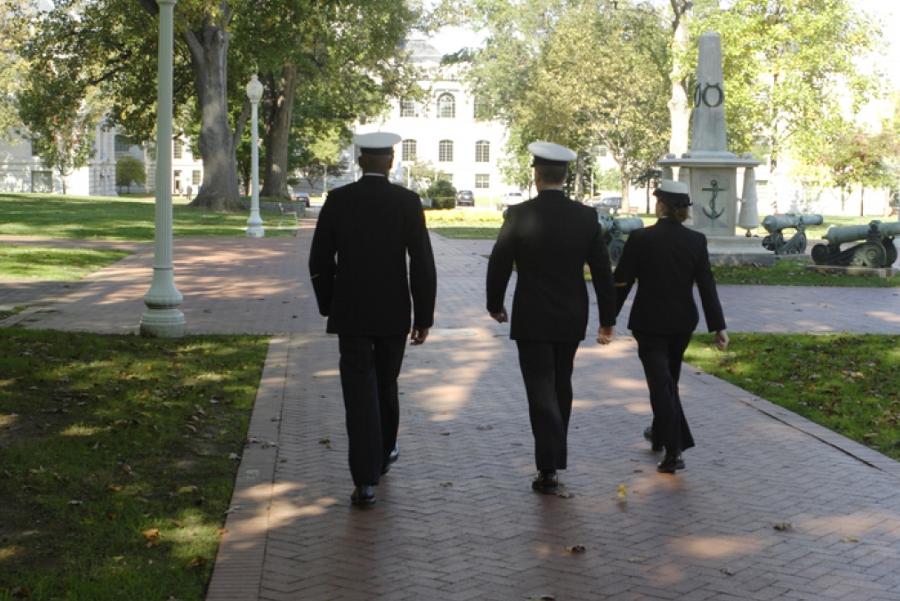 As a member of Congress, Rep. Greg Stanton has the privilege of nominating some of Arizona's most talented people for appointment to the four service academies that require nominations: the U.S. Air Force Academy, the U.S. Naval Academy, the U.S. Merchant Marine Academy and the U.S. Military Academy (West Point). The fifth service academy, the U.S. Coast Guard Academy does not require a congressional nomination for appointment.
Congressman Stanton strongly believes that our nation's military leadership should reflect the diversity of the American people and encourages applications from people of color, women, individuals who identify as gay, lesbian, or bisexual, individuals from diverse socio-economic backgrounds, and other persons who come from communities who are underrepresented as officers in the United States military.
Students who demonstrate strong leadership skills but do not have competitive grades may be selected to a attend a one-year preparatory program at no cost.
COVID-19 Update from Rep. Greg Stanton:
"One of my greatest honors as a Member of Congress is to nominate exceptional young students from my district to the different military academies. Considering how coronavirus has aggravated existing inequities in education, my office will no longer be requiring students to submit SAT/ACT scores in order to secure a Congressional nomination to a military academy.

For some students, the pandemic of poverty and inequality was only exacerbated by coronavirus. We heard stories of students whose parents suddenly found themselves unemployed, or who had sick family members, or for whom the digital divide was not a theory but a reality. As schools closed in response to the virus and learning moved online, the tech gap widened for many students. In one particularly poignant case, officials from Phoenix Union High School District stumbled on three seniors on a cold morning, bundled beneath a blanket, trying to access the school's WiFi so they could keep up with their schoolwork and reach graduation. These inequities will manifest themselves as students continue onto higher education, including for those who seek to enter public service through a military academy.

Every student in Arizona deserves equality of opportunity, and that includes applying for and receiving a Congressional nomination from my office. Students wanting to attend one of these prestigious institutions must be admitted by the academies themselves and additionally secure a nomination from a qualified source, with most nominations coming from Members of Congress. We want to nominate students who demonstrate intelligence, leadership, integrity, and resilience. This vetting process should include a deep dive into a student's scholastic success and promise, but not be so closely aligned with performance on a single exam, particularly in light of our current situation. Our nominations process will continue to assess academic achievement, but students will be evaluated on a more holistic and equitable basis."
The Office of Congressman Greg Stanton is now accepting nomination applications for the Class of 2027. The deadline to submit applications is 5 p.m. on October 28, 2022. Please note this is NOT a postmark deadline, all application materials must arrive at the Phoenix office by 5 p.m. on Friday, October 28, 2022. Please note that virtual interviews will be conducted on Saturday November 12, 2022 and you must be available on that date.
Each applicant must meet basic eligibility requirements set by the academies:
Must be a U.S. Citizen and legal resident of Arizona;
Must be unmarried;
Must not be pregnant and have no legal obligation to provide financial support for children or other dependents;
Must be at least 17 years old, but not have passed their 23rd birthday (25th birthday for the Merchant Marine Academy);
Must be qualified to commit to a minimum of five years of active duty service upon graduation from an Academy.
In addition, the applicant must be a resident of Arizona's ninth district.
Application requirements:
A personal statement between 500-750 words answering why you are committed to attending a service academy;
A Resume, which must include a phone number and e-mail address;
Three letters of recommendation from people who can speak to your character and achievements;
An official transcript from all high schools, junior colleges, or universities you have attended;
Current wallet size (2"x3") photo.
Once you turn in these documents that will complete your application, our office does not require you to complete an online form.
How to send documents:
Applications can be mailed to Congressman Stanton's office or e-mailed to AZ09ServiceAcademies@mail.house.gov. All documents must be placed in one sealed envelope and arrive in our office by 5 p.m. on October 28, 2022.
Office of Congressman Greg Stanton
c/o Jillian McLaughlin
2944 N. 44th St., Ste. 150
Phoenix, AZ 85018
If you are submitting documents electronically, please send one PDF with all documents to AZ09ServiceAcademies@mail.house.gov. The submission must be received by 5 p.m. on October 28, 2022.
Applicants who submit a completed nomination file will be scheduled for an interview on November 12, 2022. You must be available on that date to interview. Please note that due to COVID-19, all interviews will be conducted virtually.
If you have questions about the nomination process, please e-mail AZ09ServiceAcademies@mail.house.gov or call our office at 602-956-2285.
Note: In addition to submitting a packet to our office, it is your responsibility to complete and submit an application to the academy or academies by their listed deadline. This is a distinct process from receiving a nomination from our office.
For more information, please review the page of Frequently Asked Questions for those seeking a Military Academy Nomination.
The U.S. Coast Guard Academy no longer requires a Congressional nomination for appointment. Applications must therefore be made directly to the Academy.
Securing a nomination from our office does not guarantee an appointment (i.e. offer of admission). It is at the ultimate discretion of each respective Academy to make the final decision. You are encouraged to apply for as many nominations as you may be eligible. As a matter of courtesy, we ask that you inform our office if you are also seeking a nomination from a Senator's office.