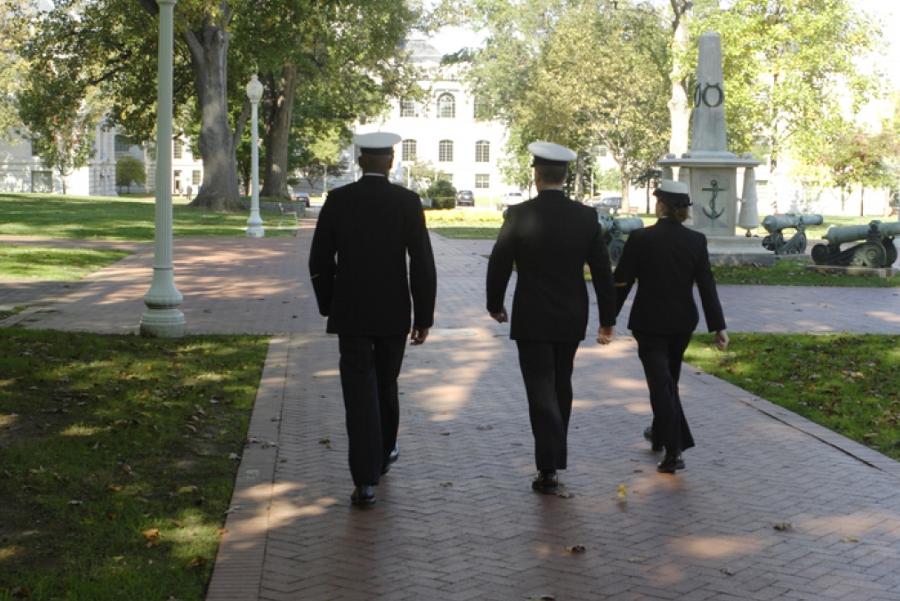 As a member of Congress, Rep. Greg Stanton has the privilege of nominating some of Arizona's most talented people for appointment to the four service academies that require nominations: the U.S. Air Force Academy, the U.S. Naval Academy, the U.S. Merchant Marine Academy and the U.S. Military Academy (West Point). The fifth service academy, the U.S. Coast Guard Academy, does not require a congressional nomination for appointment.
Congressman Stanton strongly believes that our nation's military leadership should reflect the diversity of the American people and encourages applications from people of color, women, individuals who identify as gay, lesbian, or bisexual, individuals from diverse socio-economic backgrounds, and other persons who come from communities who are underrepresented as officers in the United States military.
Students who demonstrate strong leadership skills but do not have competitive grades may be selected to attend a one-year preparatory program at no cost.
The Office of Congressman Greg Stanton is now accepting nomination applications for the Class of 2028. The deadline to submit applications is 5 p.m. on Friday, October 13, 2023.
Each applicant must meet basic eligibility requirements set by the academies:
Must be a U.S. Citizen and legal resident of Arizona;
Must be unmarried;
Must not be pregnant and have no legal obligation to provide financial support for children or other dependents;
Must be at least 17 years old, but not have passed their 23rd birthday (25th birthday for the Merchant Marine Academy);
Must be qualified to commit to a minimum of five years of active duty service upon graduation from an Academy.
Application requirements:
A personal statement between 500-750 words answering why you are committed to attending a service academy;
A resume, which must include a phone number and e-mail address;
Three letters of recommendation from people who can speak to your character and achievements;
An official transcript from all high schools, junior colleges, or universities you have attended;
A list in order of preference of which service academies you are seeking a nomination for;
A current wallet size (2"x3") photo.
In addition, the applicant must be a resident of Arizona's fourth district. You can verify your district here. Please note in the body of your email if you are seeking a nomination from a Senator's office.
How to send documents:
Applications should be e-mailed in a single PDF to AZ04.ServiceAcademies@mail.house.gov. All documents must be received by our office by 5 p.m. on October 13, 2023.
Applicants who submit a completed nomination file will be scheduled for an interview on Saturday, November 4, 2023. You must be available to interview on that date.
Note: In addition to submitting a packet to our office, it is your responsibility to complete and submit an application to the academy or academies by their listed deadline. This is a distinct process from receiving a nomination from our office.
If you have questions about the nomination process, please e-mail AZ04.ServiceAcademies@mail.house.gov or call our office at 602-956-2463.
For more information, please review the page of Frequently Asked Questions for those seeking a Military Academy Nomination.
For general inquiries regarding an academy's process, you may contact the academies:
Army: 1-800-822-ARMY, http://admissions.usma.edu
Navy: 1-888-249-7707, http://www.usna.edu/admissions
Air Force: 1-719-333-2520, http://academyadmissions.com
Merchant Marines: 1-800-732-6267, www.usmma.edu/admissions
Coast Guard: 800-883-8724 https://uscga.edu/admissions/
The U.S. Coast Guard Academy no longer requires a Congressional nomination for appointment. Applications must therefore be made directly to the Academy.
Securing a nomination from our office does not guarantee an appointment (i.e. offer of admission). It is at the ultimate discretion of each respective academy to make the final decision. You are encouraged to apply for as many nominations as you may be eligible. As a matter of courtesy, we ask that you inform our office if you are also seeking a nomination from a Senator's office.