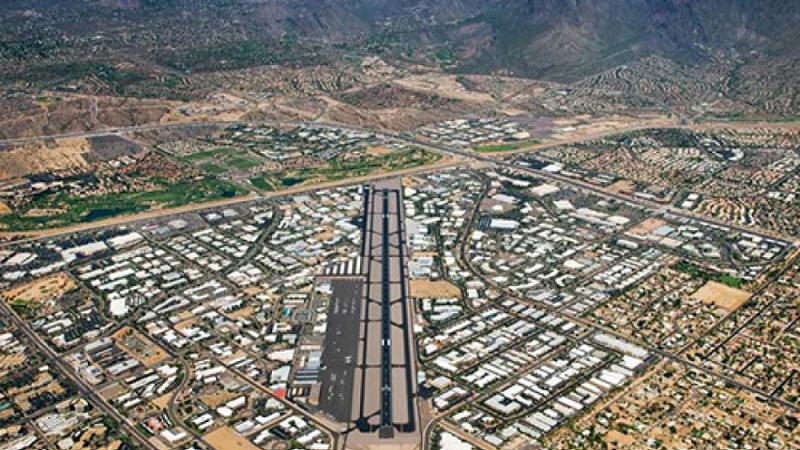 An infrastructure grant to make much-needed improvements to the Scottsdale Airport's runway could be accelerated thanks to Rep. Greg Stanton's advocacy to the Federal Aviation Administration. Stanton has been working with Scottsdale Mayor David Ortega to elevate the airport's runway rehabilitation project to the FAA and make the case for releasing grant funds ahead of schedule.
Earlier this month, Stanton urged FAA Administrator Steve Dickson to expedite the release of the grant in order to allow the airport to complete the pre-construction items necessary to begin the project on time. Stanton visited Ortega in Scottsdale on Monday to update him on the grant's status and discuss other infrastructure projects important to the City.
Construction is slated to begin on July 6, with the airport temporarily ceasing operations to complete the project. Without accelerating the release of the federal grant, the project was put at risk—and the City of Scottsdale can't proceed with any construction until the grant is officially awarded.
"Scottsdale Airport is one of the busiest single-runway airports in the nation, it anchors one of the largest employment clusters in Arizona, and it has not had a major rehabilitation since it was built in 1967," said Ortega. "This runway rehabilitation project is critical to continuing the airport's positive impact, and Scottsdale is very grateful for Greg Stanton's support so that we can complete this important maintenance project this summer."
"The Scottsdale Airport plays an important role in our region's economy—and we need to invest in its infrastructure to help grow its capacity," Stanton said. "I'm working closely with Mayor Ortega and the FAA to cut through red tape and get these funds to the airport as quickly as possible."

In April, the airport was awarded an Airport Improvement Program grant of approximately $8.5 million, falling short of the estimated $11 million necessary to complete the project. The FAA Phoenix office and the FAA region were able to identify additional AIP funds to address the shortfall, and submitted the request to Office of Secure Transportation to combine the funds and re-issue the award.
When the City of Scottsdale was notified the reissue process could take several weeks, potentially delaying construction, Mayor Ortega approached Stanton to request he intervene on their behalf with the FAA to ensure the grant was reissued expeditiously.
The funds are expected to be released by the end of the week, keeping the project on schedule.